Scotland's jobless total falls by 15,000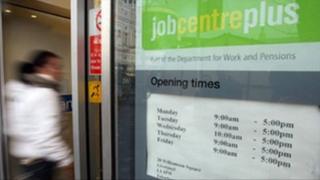 Unemployment in Scotland fell by 15,000 in the three months to December and now stands at 149,000, according to official figures.
Employment rose by 20,000 to a record high of 2,625,000 over the same period.
The Scottish unemployment rate is 5.4%, compared with 5.7% for the whole of the UK.
The UK's jobless total fell by 97,000 to 1.86 million between October and December, according to the Office for National Statistics.
The number of people claiming Job Seeker's Allowance in Scotland fell by 3,200 to 81,100 between December and January - 29,200 fewer than a year ago.
'Hugely encouraging'
The Scottish government said unemployment north of the border had fallen below 150,000 for the first time since 2009.
Deputy First Minister John Swinney said: "Today's figures are hugely encouraging and demonstrate a robust, more inclusive and active Scottish workforce supporting our economy which in itself is going from strength to strength.
"We must remain absolutely focused on continuing to deliver those better economic prospects and vigilant about challenges within different sectors of the economy.
"Scotland is outperforming the UK on all three headline labour market indicators with employment continuing to increase and unemployment down."
'Difficult decisions'
Scottish Secretary Alistair Carmichael said the figures showed that the UK government's long-term economic plan was working.
He added: "With economic activity and employment levels in Scotland above the UK average, it is clear our businesses are making the most of the opportunities that come with being part of the UK with our shared currency, pensions and a large and diverse economy which is forecast to grow faster than any other G7 country in the last year.
"We've had to take difficult decisions and tackle the deep economic problems we inherited head on. These figures today show our decisions are benefiting communities across Scotland."