'New Scottish brand' needed to boost exports, says N-56 report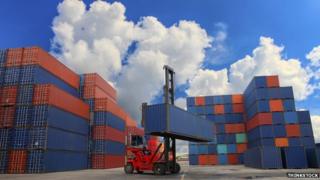 Scotland needs a new brand to sell its skills and modern industries to the world, according to a new report.
N-56, an economic think tank with links to the SNP, wants exports to play a large part in the Scottish government's economic strategy, which is due for an update next month.
The report also said Scotland needs better air links and freight terminals.
It argued for an improvement of the country's sales force, including more language ability.
The think tank argued that Scotland should follow the example of small nations, including Denmark, Ireland and Singapore, which rely more heavily on exports for economic growth.
Scotland's trade volumes would need to increase by 41% to match the average for small advanced economies, it was claimed, or 63% if oil and gas exports were excluded.
'National brand'
It suggested the Scottish government should not measure its success against the trade performance of the United Kingdom, with its reliance on the finance sector.
Instead, it should apply to join the Nordic Council, which includes independent states and regions with devolved powers.
Pushing into more export markets should help drive up productivity, according to the report's authors.
They said devolved tax powers could be used to target incentives at sectors with the strongest potential for export growth, including energy, food, drink and tourism.
The report gave examples of other countries which have used consistent branding to boost tourism, inward investment and business-to-business sales - including New Zealand, Finland and Singapore.
Graeme Blackett of economic consultancy BiGGAR Economics, which compiled the report, said: "A renewed focus on increasing exports will allow Scotland to close the trade gap with other wealthy economies, boosting productivity and achieving their economic growth rates.
"The lesson from prominent trading economies shows that initiatives such as the development of a realistic and authentic national brand can play an important role."