Oil and gas industry in 'bleak' 2014, finds survey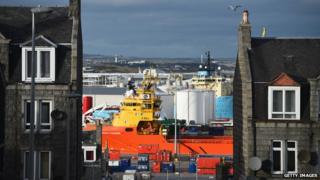 The UK offshore oil and gas industry has reported its worst annual performance for four decades.
Industry body Oil & Gas UK said falling oil prices and rising costs meant the sector spent and invested £5.3bn more than it earned from sales during 2014.
That outflow of cash was the biggest since massive investment in platforms in the 1970s preceded the flow of oil.
The body's annual survey also indicated that investment in the industry is set to fall this year, as well as drilling.
Oil & Gas UK said the "bleak" findings emphasised the urgency of government action to secure the industry's long-term future.
Although drilling of 25 wells was expected last year, only 14 took place, continuing a downward trend. Only 50 million barrels of viable reserves of oil or its gas equivalent were discovered.
This year, Oil & Gas UK members expect between eight and 14 exploratory wells to be drilled, and only five wells to appraise initial discoveries.
This points to a steep drop in investment in developing new reserves and extending current offshore fields.
The survey also showed that:
Investment last year reached £14.8bn, which was higher than expected due to cost and project over-runs.
It is forecast to fall to between £9.5bn and £11.3bn during this year. Feedback from offshore operators suggests very little new investment is expected to be given the go-ahead during 2015.
Annual investment could fall as low as £2.5bn within three years, once the current wave of large projects enters production.
Production of oil and gas fell by only 1% during 2014, following sharp falls over the previous three years. Due to recent high investment levels, it is expected to rise by 1% during this year.
Operating costs continued to rise during last year, up by 8% to £9.6bn.
The cost per barrel extracted has risen to a record high of £18.50. That is expected to fall as the industry cuts back on its costs, including a controversial move to change rota patterns for offshore workers.
It is claimed that cost and efficiency measures need to improve by up to 40% per barrel of oil if there is to be a sustainable future for the UK's offshore sector.
Oil & Gas UK chief executive Malcolm Webb said: "Even at $110 per barrel, the ability of the industry to realise the full potential of the UK's oil and gas resource was hamstrung by escalating costs, an unsustainably heavy tax burden and inappropriate regulation.
"At current oil prices, we now see the consequences only too clearly.
"Without sustained investment in new and existing fields, critical infrastructure will disappear, taking with it important North Sea hubs, effectively sterilising areas of the basin and leaving oil and gas in the ground."
From 2010 until mid-2014, world oil prices had been fairly stable, at about $110 a barrel. But since June, prices fell below $50 and have recently been trading at around $60.
This has been driven by weak demand in many countries due to insipid economic growth, coupled with surging US production, and a break from past behaviour by oil exporting nations, by keeping production up rather than cutting it to maintain the price.
Responding to the report, Chancellor George Osborne vowed to take further action to support the North Sea oil and gas industry.
He said: "While the huge fall in the oil price has been a real benefit to the British economy, it's been a challenge for the North Sea oil and gas industry.
"We've got record investment in the North Sea and there's a lot of oil still in there.
"We want to continue to maximise investment in the North Sea to make sure it continues to provide jobs and economic benefits to the whole of the UK.
"The North Sea is a great national asset and we will do everything to protect it.
"I've already cut taxes in the North Sea and we're now looking at what more we can do to work with industry to support investment in this important sector."
Mr Osborne is due to meet industry leaders on Wednesday to discuss what action is needed by both industry and government to ensure the long term success of the sector.
'Fair return'
Scotland's Energy Minister Fergus Ewing said: "This report highlights the long overdue and urgent action on taxation and regulation, which the UK government must deliver to give the industry the certainty it needs to protect jobs and investment.
"It is encouraging that Oil and Gas UK expect the first annual production increase in 15 years to happen this year.
"However, to sustain North Sea activity over the longer term, exploration levels must improve and long-term investment must be sustained to ensure that sufficient new production comes on stream.
"This should help to protect future tax receipts and ensure a fair return to the nation."
The union Unite called for immediate government intervention to halt what it claimed was a "potentially disastrous race to the bottom" in working standards across the North Sea offshore industry.
Unite Scottish Secretary Pat Rafferty said: "This morning we can see clearly the industry's intention to redraw the offshore landscape for the next generation and it bodes poorly for jobs, pay, skills and a safe working environment.
"This is not the way to plan for the future of our most important economic sector and the UK and Scottish governments, both complicit with industry majors over a strategic failure to plan for a slump in oil price, must stop spectating and intervene immediately."
---
Are you affected by the shock fall in oil prices? You can share your experiences by emailing haveyoursay@bbc.co.uk
Please include a contact number if you are happy to speak to a BBC journalist.
Email your pictures, video or audio to us at yourpics@bbc.co.uk
Terms and conditions for sending contributions to the BBC.