Scottish rents 'lag rest of Britain', Your Move survey says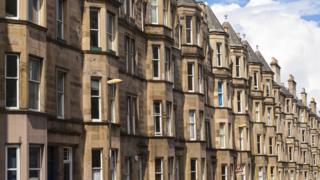 Property rents in Scotland have increased at a much slower rate than in England and Wales over the last four years, according to a report.
Lettings agent network Your Move said rents north of the border had gone up by 5.3% since the last Holyrood election.
In England and Wales they climbed by 9.6% over the same period.
Tenants in Scotland currently pay an average of £536 per month, up from £509 in 2011.
Your Move's Buy-to-Let index reported a 0.1% monthly dip in rental prices in Scotland in January, with the average monthly rent now 1.3% higher than a year ago.
In England and Wales, rents have risen year-on-year by 2.8%.
Rents growth
In the past year, rents have risen in three out of five Scottish areas, according to the index.
Edinburgh and the Lothians recorded the strongest annual growth, with rents increasing 3.8% in the 12 months to January.
The east saw rents rise 3.2%, and in Glasgow and the Clyde area tenants are paying 1.3% more.
In the south and in the Highlands and Islands rents are lower now than a year ago, dropping 1.6% and 1.4% respectively.
Brian Moran, area lettings director at Your Move, said: "Scottish tenants are having a much smoother ride than their counterparts south of the border, with rental prices in Scotland climbing at a considerably slower pace.
"Despite snowballing demand for homes to let, the private rented sector has managed to shelter tenants from the worst extremes of rent inflation and rents have navigated an affordable route broadly trailing inflation."