Oil services firm Archer to shed 400 posts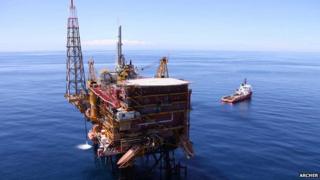 Oilfield services company Archer has confirmed it is losing more than 400 jobs from its UK operations, many of which are based in Aberdeen.
The company said 135 posts had already been lost from its north east operations.
A further 290 UK onshore and offshore jobs will go in the next few months.
Archer announced on Monday it had decided to cut 1,000 posts globally, following a "reduction in activity and the demand for our services".
The Bermuda-based company specialises in drilling and well intervention services.
The move comes as Oil & Gas UK reported the sector's worst annual performance for four decades.
The industry body said falling oil prices and rising costs meant the sector spent and invested £5.3bn more than it earned from sales during 2014.
Oil & Gas UK said the "bleak" findings emphasised the urgency of government action to secure the industry's long-term future.
'Reduction in activity'
In announcing its preliminary 2014 results, Archer said it had seen many of its customers "significantly reduce their investments and expenditures" at the end of the year and the beginning of 2015, driven by the sharp decline in the price of oil.
It reported a reduction in activity in the US onshore market and the North Sea, where several of its customers decided to cancel or delay projects or to stop drilling operations and idle platforms.
The statement added: "As a consequence of the reduction in activity and the demand for our services, the company has decided to reduce employee headcount by approximately 1,000 positions, or 11% of its total workforce.
"The company continues to review its compensation, bonus and benefits plans in order to bring them in line with the current economic climate.
"We are also working with our suppliers and subcontractors to reduce our cost base to maintain a base level of profitability and generate positive cash flow."