UK ministers halt Scottish fracking ahead of Holyrood move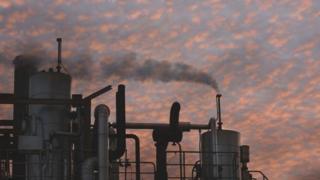 The UK government has "agreed in principle" not to award any more fracking licences in Scotland.
UK ministers will, however, consult with companies which have already applied for licences before any final decision is made.
New powers over the industry are due to be devolved to the Scottish Parliament.
The Scottish government has already announced a moratorium on unconventional oil and gas projects, using its existing powers.
UK energy minister Matt Hancock said: "We've already committed to Scotland having devolved powers for licensing of oil and gas as part of our efforts to give the Scottish government more decision-making powers.
"We agree in principle to their request that no new licences be awarded in Scotland as part of the 14th licensing round, and will consult with companies who have already applied before making a final decision."
The UK government has indicated it will work with the Scottish government on the position of these companies.
Decided in Scotland
Scottish energy secretary Fergus Ewing said: "We argued that the decisions over fracking should be decisions for Scotland.
"We first persuaded the UK to abolish their plans to allow fracking to take place beneath people's properties without their consent and secondly we persuaded the UK government that responsibility to determine policy should be passed to Scotland."
Mr Ewing said the move over licences was the logical next step.
He added: "That means that policy over unconventionals in Scotland will be discussed, debated and then decided in Scotland."
Scottish Labour MP Tom Greatrex responded to the news by saying: "After months of pressure, the government have finally given way to Scottish Labour's demands that it respect the findings of the Smith Commission and suspend any new fracking licenses in Scotland."
He added: "While eight out of 10 homes still rely on gas for heating, shale gas may have a role to play in displacing some of the gas we currently import and improving our energy security.
"But that potential benefit cannot come at the expense of robust environmental protections or our climate change commitments."
Exploration licences
One of the companies intending to develop unconventional energy projects is Ineos, which operates the petrochemical plant at Grangemouth.
It issued a statement questioning whether the change was necessary.
It said: "Ineos understands the commitment to devolve powers to Scotland including the development of exploration licences in Scotland. However, it is not in fact necessary to delay awarding of the 14th Round exploration licences in Scotland as the Scottish Government already has effective control over any physical activity on the licences through the planning system.
"Ineos remains committed to engage with local communities in Scotland to provide information on the economic and environmental impact of unconventional oil and gas.
"We believe the best way to assure security of supply and the long term success of the Scottish economy and its manufacturing sector is to develop an indigenous shale gas resource."