Alliance Trust warns against 'continuing uncertainty'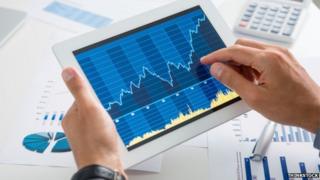 One of Scotland's longest-established finance houses has warned against continuing uncertainty about the country's constitutional future.
Alliance Trust, based in Dundee, said last year's referendum was unsettling for shareholders and customers.
The trust, which manages assets worth £6.4bn, said that was particularly felt in other parts of the UK.
Last year, it said a vote for independence could force it to relocate its head office outside Scotland.
In Edinburgh, Standard Life gave a similar warning.
It was not clear what that would mean in terms of jobs being relocated.
In a statement with its annual financial results, Alliance Trust's chairwoman Karin Forseke said that "an extended period of uncertainty is not in the interests either of business or the economy as a whole".
She said: "We remain ready to act as necessary to protect its shareholders' and customers' interests."
Significant moment
Alliance Trust's chief executive, Katherine Garrett-Cox, aims to position the asset manager as a "sustainable investor", claiming it is already in Britain's top three for that sector.
Last year, two senior appointments of equity managers were of people with a track record in measuring the sustainability of investment.
The chief executive is looking to the climate change summit scheduled for Paris in December as a significant moment for the company in the year ahead.
Ms Garrett Cox said: "We expect this to be a catalyst for a number of sustainable development initiatives, which will set the tone for the negotiations for the next 15 years and which will fundamentally impact upon the way in which we all do business.
"We see this as part of the irreversible trend that has gained considerable momentum in recent years."
"We are confident that our experienced team, with their proven track record of investing in sustainable companies, and our distinctive investment process will enable us to identify and support those companies that are creating the future in which we all want to live," she added.
The Dundee firm is paying out its 48th consecutive annual increase in dividends, with an effective yield on investment of 2.3%.
The different parts of its asset portfolio all saw a rise in value.
It ended the year with assets under management worth £6.4bn, up in a year from £5.4bn which represents an increase of 19%, compared with a comparator market figure of 13%.
Of that total, £1.9bn is managed for third-party investors, with a net inflow to that part of the business of £88m.
Since the start of the year, with stock prices rising, the value of assets under management has risen to £6.9bn.