Mixed fortunes for Scotland's major airports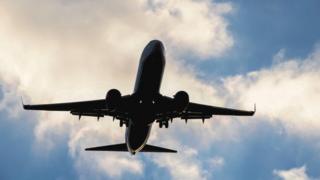 Glasgow Airport has recorded its busiest February in eight years, following a surge in international passenger numbers.
More than 510,000 passengers travelled through its doors - an increase of 13.9% on the same period last year.
Edinburgh Airport also enjoyed a strong rise in traffic last month, with more than 657,000 passengers.
But Aberdeen saw a slight fall, which the airport attributed to "weather events, mainly at other airports".
Glasgow said international traffic grew by 24.9% last month, largely as a result of continued demand for Eastern European destinations served by Wizz Air and Ryanair.
Passenger numbers were also boosted from Celtic's Europa League clash with Inter Milan, which saw thousands of football fans descend on the city.
Domestic traffic grew by 6.9%, with British Airways, Flybe and Loganair all reporting a strong February.
Ryanair's three daily services to Stansted also continued to perform well.
Glasgow Airport managing director Amanda McMillan said: "Our success in securing new routes and attracting airlines to Glasgow has translated into sustained passenger growth and we could not have asked for a better start to the year.
"The next three months will see the launch of a further 13 new routes including direct flights to Las Vegas, Munich, Prague and Halifax, Nova Scotia.
"We are continuing to make improvements to the airport in order to accommodate this growth and are making excellent progress with the £3m extension of our east pier."
Edinburgh increase
Edinburgh Airport recorded an 8.2% increase in its passenger figures in February.
The airport said traffic was boosted by the addition of more daily flights between Edinburgh and London and rugby fans travelling to Scotland from Italy and Wales.
Domestic passenger figures rose year-on-year by 9.5% to 370,907.
International passenger numbers also saw significant growth, with 286,479 people travelling through the airport.
Edinburgh Airport chief executive Gordon Dewar said strong performances in both domestic and international traffic helped drive passenger growth, with new services launching to Madeira with easyJet, increased flights to Dublin with Ryanair and larger aircraft operating between Edinburgh and Paris.
'Adverse weather'
Aberdeen International Airport reported a year-on-year fall of 0.9% in passenger numbers last month.
A total of 211,934 fixed wing passengers were reported during the month, 1.4% down on last year.
However, helicopter traffic maintained its growth with 41,070 passengers - an increase of 1.6%.
Airport managing director Carol Benzie said the drop in passenger numbers was in line with expectations.
She added: "We saw a small level of impact from adverse weather in other locations, but also we have said we would be unlikely to maintain such a high growth percentage month-on-month and would likely see a levelling out on passenger levels over the coming year.
"The results still show continued growth in helicopter operations, and strong numbers across our leisure routes, and we continue to work with our operators to put the final touches to our busy summer schedule."