Bank of Scotland: Most oil firms 'upbeat on growth'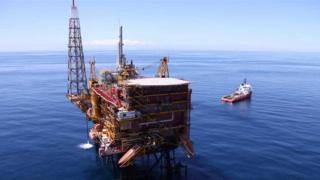 Most North Sea oil and gas companies are planning for growth this year despite the fall in the price of oil, according to a report.
The Bank of Scotland found 92 of 101 firms surveyed said they intended to grow - an increase from 69% a year ago.
Its oil and gas report also showed more than two-thirds expected to increase staff numbers in the next 24 months.
It found most North Sea firms, including smaller enterprises, saw "increased opportunity" ahead.
The survey indicated many companies were looking to expand abroad and diversify into renewable energy, shale gas production and decommissioning of old oil and gas platforms.
This was despite a barrel of Brent Crude selling for barely half what it went for in June of last year.
The industry has warned that thousands of jobs could be lost in the North Sea over the next five years, in part because of falling commodity prices.
But the Bank of Scotland's fourth annual report on the industry said much of the recent news on investment and jobs had come from a few large firms.
The survey found that "worries troubling executives" had greatly increased and thus did not contradict recent findings by trade body Oil and Gas UK of falling industry confidence.
But interest by firms in expanding internationally was much greater in 2015 than last year.
There was also greater interest in the possibility of mergers and acquisitions, with a quarter of firms surveyed saying they hoped to merge or buy, compared with only a tenth last year.
Bank of Scotland found the number of companies interested in diversifying into onshore shale production to produce oil and gas had more than doubled in a year.
Also, interest in diversifying into work involving renewable energy sources had more than trebled.
The report said the main reasons for this were that firms were seeking more flexible oil production and less exposure to price uncertainties.
'Resilient industry'
In terms of jobs, four companies said they expected to create between 500 and 1,000 jobs and one firm more than 1,000 posts over the next two years, with a net total of just under 8,000 jobs expected to be created in the North Sea.
But the report warned the figure did not mean that a North Sea jobs boom could be expected.
It said merger and acquisition activity might boost companies' headcounts, but was unlikely to increase the North Sea workforce.
It also said international expansion plans meant increases in headcounts could occur overseas rather than in the North Sea.
Stuart White, Bank of Scotland area director for Aberdeen and North Scotland, said: "The picture painted by our three previous reports was of optimism for growth and it will be no surprise that fluctuating oil prices have slowed the previously reported rapid pace of overall investment and job creation.
"However, this report has revealed a few surprises.
"It shows an industry that is resilient, looking to the long-term prospects, while managing the tougher conditions currently presented by low commodity prices."
The report was welcomed by the Scottish government, which renewed its call for the Chancellor to bring forward a "substantive package of fiscal reform" for the oil and gas industry in next week's budget.
A spokesman added: "While there is a long-term sustainable future for the North Sea, it is clear that the oil and gas industry currently faces a range of challenges.
"Tax reform is named by 21% of companies as among the three biggest challenges."