Alliance Trust faces shareholder challenge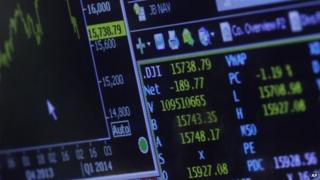 Bosses at investment fund manager Alliance Trust are facing a new challenge - from its main shareholder.
Elliott Advisers, a US-based investor, is demanding a change of governance at the Dundee-based firm.
It is putting up three candidates for the board of directors, in a challenge to the authority of chief executive Katherine Garrett-Cox.
Alliance Trust is considering the challenge and is expected to respond soon.
It has faced two similar challenges from activist investors in recent years, including a suggestion in 2012 from Aberdeen Asset Management's Martin Gilbert that it could take over the running of Alliance Trust's funds from its in-house team.
Not satisfied
In 2011, Laxey Partners also sought to challenge the management approach with a challenge to the board.
Elliot Advisers issued a statement on Monday morning saying Alliance Trust had under-performed, its share price undervalued the assets it holds, and its costs were too high.
It claims to have engaged with the management, including chairwoman Karin Forseke, but is not satisfied with the response to its concerns.
---
Analysis
Douglas Fraser, BBC Scotland Business/Economy Editor
Alliance Trust takes pride in its dividend increasing every year for 48 years, and a pedigree going back to 1888.
But that's not much defence against the hedge funds. This is the second one in four years to see an opportunity to put Alliance Trust in play for a takeover, with big profits to be made.
That is partly because it is small. Assets under management of £6.9bn seems a lot. But with Aberdeen Asset Management now sitting on nearly a third of a trillion pounds, it can claim to have efficiencies that Alliance Trust would struggle to match.
Perhaps most interesting about this is that Alliance Trust wants a niche in responsible, sustainable investment. It is open to the charge from its critics in the finance sector that ethical investment depresses value.
This latest challenge may play out as a test of how much long-term investing can withstand the pressure to perform from shareholders with shorter-term horizons.
---
The statement says that the catalyst for the challenge was the removal last year of Ilorio di Bon as head of equities "to pursue other opportunities", with Peter Michaelis internally promoted as replacement, and Simon Clements as equity manager of the portfolio.
Elliott claims that the post was filled without prior notice, through internal promotion without advertisement, without inviting external proposals, and without canvassing shareholder views.
In the recent announcement of Alliance Trust's annual results, Ms Garrett-Cox said there had been positive feedback from shareholders about the appointment.
She linked them with the company's decision to emphasise its investment in sustainable businesses, focused for the longer term on their environmental, social and governance strengths.
Elliott Advisers has written to shareholders in Alliance Trust, saying it has already had frequent contact with others, hinting that the £6.9bn fund (the assets under administration) could be more efficiently run by another fund manager.
About 70% of shareholders at Alliance Trust are its retail customers, reflecting a tradition going back to its founding in 1888. The second largest investor is the Dundee-based newspaper and magazine publisher DC Thompson.
"Over the past months, we have sought to engage constructively with the board on these governance and substantive matters," said the Elliott Adviser statement.
"We have sent several letters to the chairman containing detailed questions about the board's motivations and the rationale for its decisions, and held meetings with the chairman, the senior independent director, and the chief executive.
"We are disappointed that we have not received any meaningful response from the board on matters of substance, which demonstrates a lack of openness and consideration for areas of shareholder concern."
It is understood there were two meetings between Elliott Advisers and the top two figures at Alliance Trust last week, but there was no mention during those meetings that a headhunter had been employed to seek out new directors.
The financiers being put forward by Elliott are Anthony Brooke, Peter Chalmers and Rory Macnamara.
The Alliance Trust share price rose more than 2% on Monday.