Average Scottish house price 'hits record high'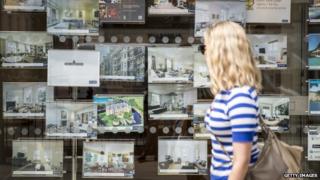 Scottish house prices have hit record levels after more than recovering the losses suffered during the financial crisis, according to a report.
Average prices soared to nearly £167,000 in January.
This was more than £1,200 higher than the previous peak reached in May 2008, during the last housing boom.
The January total followed a 1% rise in average house prices since December, the biggest monthly boost seen in seven months.
But, completed home sales in January were down 44% on the previous month - double the usual seasonal downturn.
The findings were released in the latest house price index from Your Move/Acadata.
Most areas saw prices rise last month, with Fife and West Lothian recording annual increases of about 10%.
'New chapter'
North Ayrshire experienced the biggest rise on the mainland over the last year, up 11.6%.
Dundee had a strong start to the year, with prices soaring 6.7% during January - the largest month-on-month increase in Scotland.
But some areas fared less well, with West Dunbartonshire seeing prices down by more than 7% on a year ago.
Christine Campbell, regional managing director of Your Move, said: "As we entered the new year, we also moved into a new chapter of Scotland's housing recovery.
"Thousands of home owners are finally able to turn their backs on the housing crash as Scottish house prices break cover from under the clouds of the recession."
She added: "We may have turned a significant corner in the journey back from the financial crash but we're nowhere near the finish line.
"Although a minority, average prices have fallen in seven local authorities of Scotland during the past year."