Oil and gas firms expect Budget tax cuts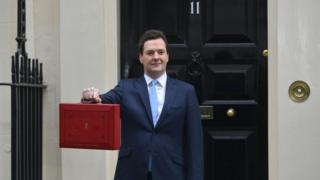 The oil and gas industry has high expectations this year's Budget will deliver substantial tax cuts.
Ministers have made it clear reducing the tax bill to encourage further investment is a high priority for them.
The move follows the sharp decline in the oil price since last summer.
With costs in the UK North Sea rising steeply, there have been warnings of a sharp decline in exploration and production.
Sir Ian Wood, the industry leader who provided the blueprint for reform of the offshore regulation and tax system, has said this is "a watershed" budget for the industry.
If it fails to spark new activity, he warned of up to 100,000 job losses and said tax decisions being made this year could mean the difference between a likely upper limit of 16 billion barrels of oil still to be recovered over the next four decades, and as low as 10 billion if the industry retreats.
---
Oil and gas tax
Profits from UK oil and gas production in most fields face two main taxes:
30% corporation tax, whereas other industries will see the headline rate cut again, to 20% next month.
30% supplementary charge. This was introduced in 2002 at 10%, and raised up to 32% in the 2011 Budget. It has already been announced that it is coming down to 30%.
Older fields have a higher tax level, through Petroleum Revenue Tax. For fields approved before 1993, the combined taxes amount to 80%.
There are complex tax allowances to set against the cost of investment. Some can be spread over several years of profits.
Field allowances include targeted tax breaks for high-pressure, high-temperature oil wells, heavy oil geology, and deep water drilling. Oil fields can also avoid paying tax for the first year of production.
These allowances are offset by a 'ring-fence' to ensure spending on other activities is not included in company tax calculations.
---
He also promised a review of the tax breaks used by companies to offset against investment.
In recent years, these have been targeted at more expensive developments, including high-temperature high-pressure oil and gas wells.
The offshore industry has made clear it wants to see the tax rate cut by at least 10 percentage points, with predictability to help make investment decisions for long-term projects.
A cut of that scale would reverse the increase in the supplementary charge, announced by George Osborne in his 2011 Budget, and which infuriated the industry.
After a record year for investment in 2014, it had already forecast a sharp decline in capital expenditure. But the oil price has worsened the prospects for spending, and led to very little drilling for new oil fields.
Among the figures that will be closely watched in the documents accompanying the Budget statement will be the latest forecast for oil and gas tax revenue, following the decline in oil price.