Aquamarine Power hails Oyster wave device test results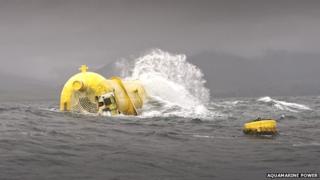 Wave power company Aquamarine Power has claimed "exceptional results" following lengthy sea trials of its Oyster 800 wave machine.
The Edinburgh-based firm spent months testing the device at the European Marine Energy Centre (EMEC) in Orkney.
It said operational data verified that the Oyster generated power as predicted in wave tank and numerical tests.
The tests, conducted last year, included operating during major storms with waves of up to 8m.
The initial results have been published in a blog post by Aquaramine's chief technical officer.
Aquamarine chef executive John Malcolm said: "These exceptional results have been gathered in more than 750 distinct sea states encompassing 94% of Oyster's power matrix and verify, for the first time, that predictions of the energy Oyster can generate in any given sea state are accurate - and in the case of large sea states is actually greater than our original calculations.
"Very few, if any, other wave energy technologies have been able to verify as much data across as wide a range of sea states, including operations through major storms.
"In simple terms, Oyster does exactly what it says on the tin.
"As a business this gives us confidence in Oyster near shore technology, and confirms that future iterations of Oyster technology can be developed at laboratory and test tank scale - secure in the knowledge that subsequent full-scale machines will perform as predicted."
Project call
In a separate development, Scotland's new research and development body for wave energy has launched a £7m international technology innovation competition.
Wave Energy Scotland (WES) issued a project call for power take-off (PTO) systems.
Successful applicants will be eligible for contracts that cover up to 100% of the cost of their project.
The contracts will range from between £100,000 and £4m, depending on the maturity of the technology.
Last month the Scottish government awarded £14.3m to WES to "kick start" the new marine energy body.
It was set up in November last year to speed up development and encourage private investment in the industry.
'Great platform'
The PTO system competitive call is the first of five calls planned over the next year, with support from the Carbon Trust, the Offshore Renewable Energy (ORE) Catapult and the University of Edinburgh.
Energy Minister Fergus Ewing said: "This project call is the first opportunity for innovative technology developers to get involved in Wave Energy Scotland and drive the direction of the wave energy sector.
"We recognise the wide range of expertise that exists beyond the energy sector.
"Wave Energy Scotland is a great platform for a collaborative effort between various industries and gives us the chance to support developers in Scotland to produce solutions for the cost effective generation of wave energy around the world."