Heathrow pledges Scottish air link boost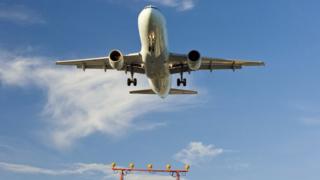 Bosses at Heathrow Airport have promised a review of airport charges to boost air links to Scotland.
They claim Scottish firms are losing out to rivals based near London because of limited air travel to and from Scotland.
The number of daily flights from Scotland to Heathrow has fallen sharply in the past decade.
In part this is because long-haul flights make most money.
Heathrow is full to capacity and airlines use their scarce landing slots for large aircraft on long-haul routes.
The UK is set to expand its airport capacity to meet growing demand for air travel, meaning an extra runway will be built in the south east of England.
The Airports Commission, headed by Sir Howard Davies, is due to issue its final recommendation to the government in the summer - after the general election.
New pricing
There are currently three short-listed options - a new runway for Heathrow, a new runway for Gatwick, or the extension of an existing runway at Heathrow.
Heathrow's bosses are to consult on changed airport charges in a bid to make routes to Scotland more attractive, and say the new pricing should be in place next January.
And they said they would work to establish new flights from Heathrow to Scottish airports it does not currently serve.
This is intended to bring a long-term boost to Scotland's economy, worth billions of pounds.
---
Analysis
Douglas Fraser, BBC Scotland business editor
The UK government has asked a commission to report on what choice to make, and it's not by accident that it won't be reporting until after the Westminster election.
To lobby the Airports Commission, the hotly competing Heathrow and Gatwick managements have realised that one way to build a coalition of support for their rival plans is to win backing from other UK airports and cities, where they look to London as a key business centre and worldwide connecting hub.
With rail connections improved in recent years, England looks less to air connections than it did. So a lot of that lobbying is about air links with Scotland and Northern Ireland.
With Heathrow now working at capacity, the spokes into the rest of the UK and western Europe in smaller aircraft have been squeezed by more profitable large, long-haul. That way, it risks choking off a vital part of the business of feeding those long-haul planes.
In the past 10 years, the number of daily connections has fallen from 50 to 35, and Heathrow estimates that the failure of Little Red, an offshoot of Virgin Atlantic flying between Heathrow and both Edinburgh and Aberdeen, will see that fall to 26.
Leaving just British Airways linking Scotland to Heathrow, the lack of choice, lack of competition and consequent higher prices don't just affect outbound Scots.
---
A Gatwick spokesman said: "Scotland should not be swayed by empty promises.
"Gatwick already serves more regional destinations than Heathrow where domestic services have been progressively cut back.
"Heathrow has made many promises in the past but like other significant pledges made by the company, it will likely come to nothing.
"The break-up of Glasgow and Edinburgh Airports, which were both owned by Heathrow, have shown that competition and choice is good for passengers, creating new routes and better service.
"Only Gatwick expansion offers the competitive choice and our message to Scottish travellers and businesses is clear: Gatwick stands for choice and competition, creating new routes, low fares and better customer service."
'Key issue'
Scotland's Minister for Transport and Islands Derek Mackay said he welcomed Heathrow Airport's plans to develop a regional pricing structure.
He said: "This was one of the key issues highlighted in the Scottish government's response to the Airports Commission.
"Regional pricing would help maintain key links between Scotland and London and would also encourage greater competition on these routes, ensuring passengers get the best ticket prices possible.
"We hope this move will incentivise other airlines to take up the slots being vacated by Virgin when they stop their domestic services in September so that tourists can easily connect to Scotland through this World Hub from long haul services.
"Whilst we remain impartial in terms of the Airports Commission's work on increased capacity at Heathrow and Gatwick, we reiterate our desire for a defined minimum level of access for flights from Scotland to ensure we adequately benefit from any new capacity."