Green Investment Bank co-funds £111m waste recycling plant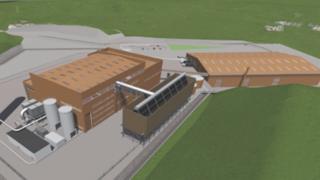 Plans for a £111m recycling and energy-from-waste plant in South Lanarkshire have been unveiled.
The Levenseat facility at Forth, near Lanark, is forecast to recycle more than a million tonnes of materials over its lifetime.
The move was announced by the UK Green Investment Bank (GIB), which is co-funding the project to the tune of more than £28m.
Other major backers include Levenseat Ltd.
GIB said more than 100 jobs would be created during the construction phase and 50 full-time jobs would be supported once the facility becomes operational in 2017.
The project includes a 12.3MW energy-from-waste (EfW) plant and an adjacent Materials Recycling Facility (MRF).
The MRF will recover plastics, metals, paper and card for recycling.
The development is forecast to supply electricity equivalent to the needs of nearly 18,000 homes over its expected 25-year lifespan.
It is also expected to save 1.4 million tonnes of waste from going into landfill and deliver a reduction in greenhouse gas emissions of around 1.3 million tonnes, equivalent to taking more than 23,000 cars off the road for every year it operates.
The electricity will be supplied to the National Grid, with the heat output assisting the operation of the MRF.
GIB chief executive Shaun Kingsbury said: "This first-of-kind project is the latest innovative example of how the UK is modernising its waste management infrastructure.
"By increasing recycling and using the remaining waste to produce energy, the Levenseat project will make a significant contribution towards Scotland's zero waste plan."