High-end home cash sales up 20%, says Registers of Scotland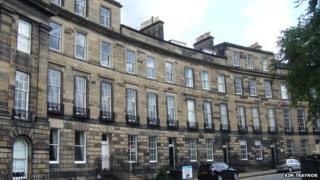 The number of cash sales on houses worth more than £500,000 has risen sharply in Scotland.
Figures from Registers of Scotland (RoS) showed a total of 599 sales last year, compared to 501 in 2013 - a rise of almost 20%.
Edinburgh had the highest volume of cash sales in 2014, with 254 residential properties.
Aberdeen had the second highest with 50, while Glasgow came in third with 34.
In 2013, 47 homes over £1m were paid for in cash. This rose to 65 last year.
---
Council areas with most cash sales over £500,000 in 2014:
City of Edinburgh: 254 (up 23.9% on 2013)
Aberdeen City: 50 (up 47%)
Glasgow City:34 (up 17.2%)
Fife: 33 (up 94.1%)
Perth and Kinross: 29 (up 61.1%)
East Lothian:28 (down 9.7%)
Aberdeenshire:25 (up 38.9%)
East Renfrewshire: 21 (down 16%)
Scottish Borders:18 (no change on 2013)
Highland:16 (up 33.3%)
Source: Registers of Scotland
---
Aberdeen had the most expensive individual cash sale at £3.07m.
This was also the highest value sale to be registered in 2014 across all transactions, including those which included mortgages.
The second most expensive individual cash sale, of £3m, was in East Lothian, while the third highest was in Fife, costing £2.6m.
RoS director of commercial services Kenny Crawford said: "These figures indicate an increase in cash-rich buyers at the high end of the property market, particularly in Edinburgh, which had the same number of high-value cash sales as the remaining top ten areas combined.
"Across Scotland, 32.4% of homes worth over £500,000 were paid for in cash last year, compared to 34.4% in 2013.
"The picture with properties over £1m is very different, with cash sales accounting for 48.9% of the market in 2014 compared to 42.3% the previous year."