M Squared Lasers in health research move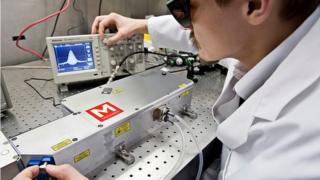 A Glasgow-based laser manufacturer has teamed up with university researchers in a bid to find new ways of fighting life-threatening health conditions.
M Squared Lasers plans to develop new technologies under an agreement with the University of St Andrews.
The agreement covers more than 100 patents, which researchers will use to develop commercial applications for the health sector.
The patents cover areas such as imaging and Raman spectroscopic analysis.
Prof Kishan Dholakia, from the University of St Andrews, said: "One key area we'll be exploring is the use of light-scattering (Raman) which can be used in the fight against cancer by accurately distinguishing between normal and unhealthy cells and tissue.
"More broadly we'll be looking to unlock new information about how the human brain works.
"Through the use of advanced compact imaging platforms, which minimise damage through laser exposure, we hope to highlight cellular processes that could lead to an improved understanding of neural networks and conditions such as Alzheimer's disease."
'All-round win'
He added: "While we're becoming more adept at developing lasers with higher specifications and quality, we still need to continually improve the way we characterise their performance, which is another area of research included in this suite of licensed technology."
M Squared Lasers chief executive Graeme Malcolm said: "This new partnership presents the opportunity to match our existing knowledge with relevant academic research, something which we hope will lead to significant developments for the health sector.
"By focusing on practical applications for laser-based biophotonic products, we're aiming to develop new products with other companies in Scotland, the UK and internationally.
"Taken together this has the potential to become an 'all-round win' situation, which will help to build Scotland's reputation as a centre of excellence in this emerging sector."