Aberdeenshire drinks firm BrewDog sees profits soar by 69%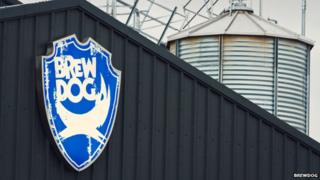 Aberdeenshire-based drinks firm BrewDog has seen annual profits rise by 69%.
Profits reached £4.9m last year, from £2.9m in 2013, on turnover of £29.6m, up 64% from £18m.
The company, founded eight years ago in Fraserburgh by James Watt and Martin Dickie, employs hundreds of people in Ellon. It opened 12 new bars last year, taking the total to 26.
Mr Watt said: "2014 was an epic year for BrewDog and the craft beer industry as a whole."
Among the new bars were six international ones, including one in Tokyo.
BrewDog now exports its beers to 55 countries.
The company had already announced 130 new jobs last month due to its continuing expansion.
It was named by The Sunday Times Fast Track 100 as the fastest-growing food and drink company in the UK.