Clydesdale woes worsen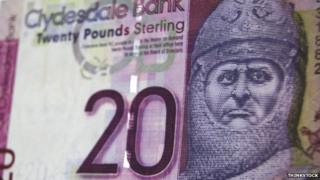 Mis-selling payment protection insurance? Which bank wasn't at it?
The compensation of customers has been providing a financial stimulus to the British economy far greater than any of the magic money tree promises coming from the political parties currently on the campaign trail.
But falsifying records to avoid having to pay refunds? That's seriously dodgy behaviour.
And so it is that the once venerable Glasgow institution of the Clydesdale Bank is in the dock for a misdemeanour - some are calling it a crime - far greater than selling customers things they didn't need, or couldn't use.
In some cases (no numbers provided) Clydesdale staff falsified customer records. This was to limit the amount paid to the customer.
And that false print-out was sent to the Financial Ombudsman when he inquired. (If you haven't already done so, it's worth pausing for a moment to think about that. This, you may recall, is an industry fundamentally based on a customer's trust.)
Reputational blow
It's been reported that people have been fired for this. I'm told that's not quite true. They've been "removed from post" and "appropriate disciplinary action" has been taken.
The £20.7m fine from the Financial Conduct Authority is surely a lot less painful than the reputational blow.
And we still don't know how much all the refunds will cost - £806m has been set aside.
That was done last autumn, when the bank already knew how much of the deep brown stuff it was in with this scandal.
So maybe that's enough of an accounting provision. Maybe not. Staff, duly retrained, have to trawl through 127,000 claims for mis-selling refunds, 42,000 of which may have been unfairly rejected, and 51,000 of which may have been underpaid.
Quite apart from writing the refund cheques, that's a colossal and expensive administrative task for a modestly-sized bank.
"Absolute priority"
That unknown hole in the bank's liabilities looks like a significant problem for the chief executive of parent company the National Australia Bank.
Andrew Thorburn made it his "absolute priority" last October to get the Clydesdale (including the Yorkshire Bank brand) off NAB's hands and books this year.
As with the impairment provision, it seems that he already knew how serious the mis-selling/document-destroying scandal would be at the time that he said that.
And so yes, you can also assume that David Thorburn, chief executive of the Clydesdale through this scandal in 2011 to 2013, knew the solids were about to hit the Xpelair when he resigned in January and was gone by March.
It was the acting chief executive in Glasgow, Debbie Crosbie, who offered the bank's apology this week, being one person who wasn't around and isn't tainted.
She did so only through the bank's own pre-recorded VNR - a video news release - the kind that doesn't allow for any awkward follow-up questions.
'Death Star'
As with RBS - with its share price permanently hobbled by the uncertainty of future litigation costs - it's hard to price a financial asset like a wonky bank. And therefore, having failed to attract a trade buyer, you'd think it might be tricky to float Clydesdale.
Andrew Thorburn (no relation to David) has been talking this week to the Australian financial media, who have long portrayed NAB's only European subsidiary as a huge burden and an embarrassment, even as a "Death Star".
The Clydesdale has obligingly kept on providing evidence to support that portrayal, including a very large portfolio of dud property loans. Yet perhaps it has avoided as much anger in Britain because it wasn't as bad or as big as Royal Bank of Scotland or Halifax Bank of Scotland, and it didn't need propped up by the government.
Viewed from Melbourne, where it's been propped up by shareholders, it has to go. Andrew Thorburn told Aussie journalists this week that he's just been in Britain, and the Poms' wider banking problems have only underlined how much he wants to get out of Britain.
So he has said that his plan to offload the Clydesdale remains on track. He'll give more detail with the half-year results - due for publication next month, a few hours before Britain goes to the polls.
Banker bashing
It could have been unlucky that there is an election campaign on at the time of this Financial Conduct Authority fine being announced. It could have been picked up to revive the political and public fury about banks.
Yet five years on, the campaign seems to have tired of that, or at least most politicians have realised there are no simple solutions.
It may turn out to be lucky for the Clydesdale bosses that there is currently no Treasury Select Committee. MPs already trawled through the Clydesdale's selling of a highly complex financial product offered to businesses. (Credit is due to The Herald for pursuing that story.)
They were not impressed by the explicit admission that it had been designed to avoid regulation, and by the bank's response to complaints about it.
But they're not out of trouble yet. With the next select committee chair no doubt eager to make a quick impact after the election, what better way to start than hauling in the Clydesdale bosses for a renewed bout of banker bashing?