North Sea oil firm Trapoil 'close to collapse'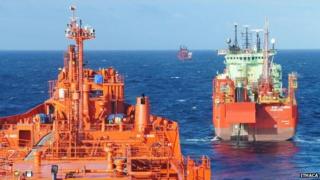 Oil and gas firm Trapoil has warned that it is close to collapse.
The company, whose interests in the North Sea include a stake in the Athena field, reported a loss of more than £44m in the year to the end of December.
It said it was "highly likely" that the group would become insolvent unless it secured further funding in the short term.
Trapoil blamed its weak finances on the sharp fall in the price of oil.
It also blamed adverse weather conditions experienced in the Athena field in the first half of the year and "significant impairment" of some of its licence interests.
Athena is Trapoil's only producing asset. It has a 15% share in the Ithaca-operated field.
London-based Trapoil is now bidding to advance the rest of its exploration portfolio, which includes a well expected to be drilled on the Niobe prospect during the current quarter.
But it added that such activities had been "overshadowed by the significant cash outflows currently being incurred in respect of our interest in the producing Athena oil field, principally a reflection of the depressed oil price".
Last year the company, which is thought to employ about 15 people, said it would cut operating costs to a minimum in order to maintain its existing assets.
It also announced a boardroom clear-out, with chairman Simon Bragg, chief executive Mark Groves Gidney and chief operating officer Paul Collins all stepping down.
In a statement, Trapoil said its directors were "continuing to urgently assess" a number of potential funding sources, including disposing of some of the group's licence interests.
It added: "The directors believe that the company currently only has adequate working capital to support its activities until around July 2015.
"But they are comfortable with preparing the financial statements on the going concern basis as there is a reasonable prospect that drilling of Niobe may be successful and, that asset sales may be undertaken."
The company added that the directors were actively holding conversations to seek additional shareholder support to secure further funding.
"The directors are taking appropriate advice as to the options available to the company and are cognisant of their obligations to all stakeholders," the statement said.
"However, in the event that further funding is not secured in the short term, the board believes that it is highly likely that the company will become insolvent, and appropriate insolvency proceedings, such as administration or liquidation, will consequently need to be commenced."