Marine Scotland reports sharp fall in salmon rod catches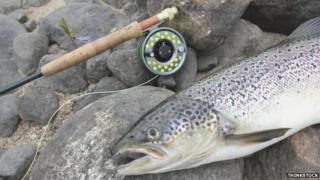 The number of wild salmon caught by rod in Scotland fell last year to its second lowest level on record, according to new figures.
Marine Scotland said the reported rod catch for 2014 was 45,175.
The figure compares with 67,500 in 2013, and is well below the annual average of 85,000 over five years.
A total of 37,139 salmon (82%) were released back into the water by anglers, while just over 8,000 were killed.
The total reported rod catch of sea trout (retained and released) for 2014 was 22,058, which represented 98% of the previous five-year average.
In its report, Marine Scotland said: "Trends in rod catch varied among individual stock components.
"Reported catch of spring salmon generally declined since records began, and although there is some indication that catch has stabilised in recent years, it remains at a historically low level.
"Overall catch of salmon and grilse in later months generally increased to 2010, after which it has fallen sharply."
Salmon and Trout Association chairman Hughie Campbell Adamson said: "Salmon runs are fickle and clearly conditions can impact on rod catches, but it would be irresponsible not to take heed of the significant downturn in the last two years which is mirrored across the North Atlantic.
"The figures underline why Scotland needs to have a robust system in place to ensure that any exploitation is limited to those stocks which have a discernible surplus.
"In this context the association supports the principle of a 'kill licence' system, as is currently being consulted on by Scottish government."
The consultation is seeking views on conservation measures which would seek to ban the killing of wild salmon except under licence, along with an accompanying carcass tagging scheme to ensure compliance.
The kill license would apply to anglers and netters.
The Scottish government hopes the new system will be in place for 2016.