Innis & Gunn launches brewery funding scheme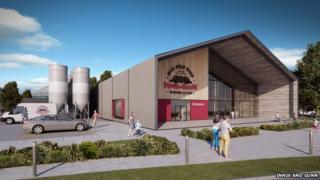 A Scottish firm has launched an investment scheme to help raise £3m for a new brewery.
Edinburgh-based Innis & Gunn plans to fund the brewery through "mini-bonds", which allow individuals to lend money directly to small, unlisted businesses.
One of the mini-bonds can be redeemed against beer at Innis & Gunn's online shop.
It plans to build the new brewery at an unspecified location in south east Scotland.
The company is currently in "advanced negotiations" to buy land for the facility.
It expects the brewery and bottling line to create up to 35 new jobs over the next four years.
Innis & Gunn said it would continue to brew the bulk of its beer at Wellpark Brewery in Glasgow.
Founded in 2003, the brewer reported turnover of £11.8m last year - up from £10.5m in 2013. Last year the company sold more than 20 million bottles of beer.
Innis & Gunn founder and chief executive Dougal Gunn Sharp said: "Our state-of-the-art brewery is where we will get even more creative and make epic new beers for craft beer drinkers to enjoy."