Scottish Financial Enterprise chief executive to step down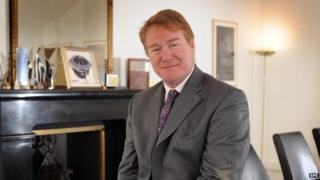 Scottish Financial Enterprise (SFE) is to start searching for a new chief executive following the announcement that Owen Kelly is to step down after seven years in the role.
Edinburgh-based SFE, which represents Scotland's financial services industry, said the process was expected to take between six and eight months.
Mr Kelly will remain in post until a successor has been appointed.
SFE said that would allow it to plan for a "successful transition".
'Outstanding'
SFE chairman Sir Ewan Brown said: "Owen Kelly has been an outstanding chief executive and has served SFE members and the wider financial services community in Scotland well for over seven years.
"As the longest-ever serving chief executive of SFE, he has brought tremendous insight and knowledge of the workings of governments, politics and the wider public sector, both throughout the UK and internationally, to the job of representing our industry.
"He has been instrumental in linking the two worlds together where necessary and promoting collaboration and understanding for the benefit of the industry."
Mr Kelly said: "In the time that remains to me in this role, I look forward to continuing our work on SFE's priorities and to supporting the board in their search for my successor."