Fall in value of Scots retail sales 'unfortunate'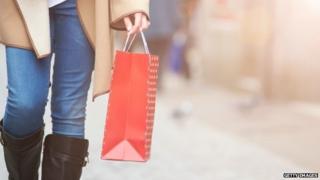 The value of retail sales in Scotland fell 0.9% in the first quarter of 2015, according to new figures.
The Retail Sales Index (RSI), released by the Scottish government, showed sales down 0.2% over the past year.
The Scottish Retail Consortium blamed the "unfortunate" drop on cheaper prices in shops, which failed to convert to increased consumer spending.
Meanwhile, the volume of sales increased by 0.2% in the first quarter and grew by 2.2% annually.
The RSI measures the total turnover of businesses registered as retailers.
'Profound change'
David Lonsdale, director of the Scottish Retail Consortium, said: "The dip in the value of Scottish retail sales in the early part of this year, after positive growth in the previous quarter and flat performance over the year as a whole, is unfortunate.
"Lower prices in shops and at the petrol pump and a more optimistic outlook for jobs and wages growth have yet to translate into increased consumer spending at shop tills."
He added: "The retail industry continues to undergo profound change due to structural and regulatory as well as economic factors.
"Responding to these changes will require substantial outlays on Information Communication Technology (ICT) infrastructure, a more highly-skilled workforce and revamped shops and warehouses, against a backdrop in which shop prices are at record lows, margins are thin and costs - including business rates - keep rising."