Bank of Scotland to close 13 branches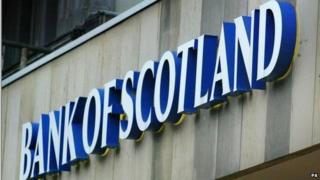 Bank of Scotland has announced plans to close more than a dozen branches in Scotland this year.
The bank said that a total of 13 branches in Edinburgh, Glasgow, Paisley and Aberdeen would shut by 18 September.
The move follows a strategic review of the business which was announced in October last year.
The bank said there would be no redundancies as a result of the decision.
Four of the branches are in Glasgow (Duke Street, Muirend, Glasgow Cross and Hillhead), seven are in Edinburgh (Marchmont, Blackhall, Fairmilehead, St James, Holyrood, Murrayfield and Sighthill) and one is in Aberdeen (Torry).
The Bank of Scotland branch in Burghead, Moray, closed on 12 May and has been replaced with a mobile branch service.
'Important role'
A bank spokesman said: "Our focus has been on urban areas where there is another Bank of Scotland branch nearby.
"Branches continue to play an important role for us."
Earlier this week, the Royal Bank of Scotland announced the closure of several of its branches across Scotland.
They included Brae in Shetland, Edinburgh's Goldenacre and Tollcross, and West Blackhall Street in Greenock.
Branches in Invergordon, Lochinver and Lybster in the Highlands and Stromness in Orkney will also shut this year.
RBS said it would be offering its customers alternative ways of using its services.
'Worrying trend'
The Federation of Small Businesses in Scotland criticised the closures announced by the two banks.
Head of external affairs Colin Borland said: "This is a bad week for Scottish towns and underlines a worrying trend.
"While we support the use of technology to provide better services, businesses need locations to deposit and withdraw cash.
"Bank branches also provide important footfall to our high streets. Business owners want to look their manager in the eye when they do deals and develop relationships.
"We urge Scotland's big banks to revisit this decision and pledge to stop abandoning small town Scotland."