Visitors numbers rise at Scottish whisky distilleries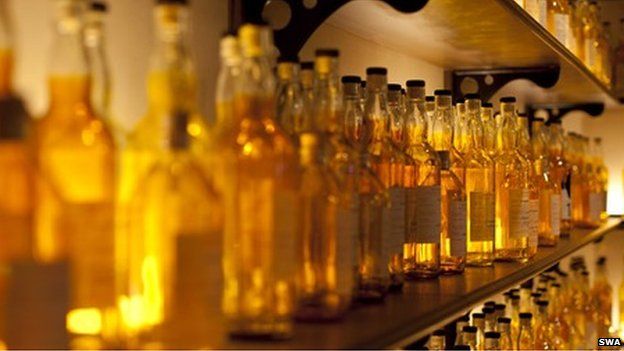 Scotland's distilleries have seen a record number of visitors, according to a survey by the Scotch Whisky Association (SWA).
It said more than 1.5 million people visited the 54 distilleries which were open to the public last year.
That is up about 6% on the figure for the previous year.
The statistics also suggested that visitors spent almost £50m on distillery tours and in the shops and cafes, almost double the spend in 2010.
While whisky plays a big part in Scotland's exports, distilleries play an equally significant role in its tourism.
The largest number of visitors came from within Scotland, with others travelling from the rest of the UK, Germany, America and France.
The SWA said the source of visitors reflected some of the largest markets for Scotch. The USA is the biggest market by value for Scotch, followed by France. Germany ranks at number five.
.Julie Hesketh-Laird, Scotch Whisky Association deputy chief executive, said: "During Scotland's Year of Food and Drink, and particularly during the Whisky month of May, our survey shows just how many people want to visit distilleries to see how Scotch Whisky is made, try a dram and buy a bottle to take home to family and friends.
"Every year, distilleries are attracting more visitors from the UK and all parts of the globe."
The association said the increase in visitor numbers reflected the levels of investment in visitor centres at distilleries.
Scott Fraser, Tomatin Distillery visitor centre manager, said: "Our visitor numbers are increasing, as is the amount people spend when they come to see us. We've completely revived our tour offering and the feedback has been brilliant, both from private tourists and an increasing number of coach tour business."
Mike Cantlay, VisitScotland chairman, said: "There is clearly a growing appetite amongst visitors to sample the secrets behind Scotland's national drink and with the greatest concentration of whisky distilleries in the world right here on our doorstep there is certainly plenty to enjoy."