Offshore safety-critical maintenance backlog 'growing'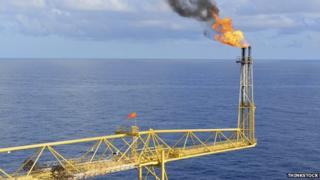 Industry body Oil and Gas UK has reported a growing backlog of safety-critical maintenance on offshore installations.
Its annual health and safety report said the trend had been growing since companies began reporting in January 2009.
The organisation said that did not mean platforms were less safe.
It argued that decisions to defer maintenance were only taken after a robust risk assessment.
The report also indicated that the number of UK offshore oil and gas leaks had fallen to its lowest level on record.
Provisional figures showed a total of 77 petroleum hydrocarbon releases between April 2014 and May this year.
This was down on the 89 recorded in 2012/13 and 102 in 2013/14.
In addition to the petroleum releases, there were 16 leaks of "non-process" substances such as diesel, methanol and hydraulic fluid.
Oil and Gas UK's Health and Safety 2015 figures were based on incidents reported by companies to the Health and Safety Executive and shared with the trade body.
The report suggested the offshore industry had a lower personal injury rate than many other sectors, including construction, transport, manufacturing, health, retail and education.
The non-fatal injury rate for offshore workers also continued to show a declining trend.
However, in 2014, two offshore fatalities were recorded - one on the Taqa Bratani Ltd Harding platform and the other on the BP Unity platform.
Robert Paterson, from Oil and Gas UK, said: "Industry, on the whole, is performing well across a range of safety criteria. However, ours is a major hazard sector where complacency has no place.
"The overall reduction in hydrocarbon releases is to be welcomed and we must continue our focus on curbing these even further.
"Our report did find a growing backlog of safety-critical maintenance offshore and this is an area that needs close attention.
"However, decisions on deferring maintenance are taken following robust management systems that assess risk and involve the relevant technical and engineering authorities."
He added: "All operators are also being encouraged to participate in providing data to all stakeholders to best reflect how the industry as a whole is managing safety-critical maintenance."