Scottish Equity Partners invests in Babbel learning app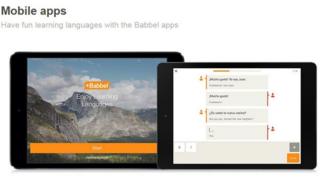 Glasgow-based Scottish Equity Partners (SEP) has made a multi-million dollar investment in language learning app Babbel.
The venture capital firm led a $22m (£14.3m) investment round supported by several existing Babbel investors.
Babbel offers 14 languages on its app, which is operated by Lesson Nine GmbH in Berlin, Germany.
Babbel said the funding would enable it to capitalise on "a significant market shift towards self-motivated learning".
Britain is one of the fastest growing markets in Europe for Babbel, which is looking to expand in new markets such as the Americas.
Babbel is available on the web, smartphone and tablet and Apple Watch.
SEP partner Stuart Paterson, who has joined Babbel's board of directors, said: "Babbel sets the standard for online language learning, and its strong international footprint is a reflection of that.
"We see significant growth potential in this market and are delighted to support the company as it executes its expansion in the Americas."