Fund to target whisky connoisseurs in China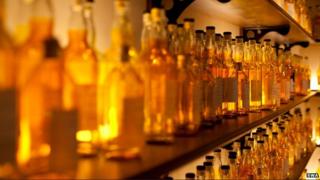 A new £3m fund has been set up to allow whisky connoisseurs in China to invest in some of Scotland's rarest drams.
The fund, generated by members of the Single Malt Club China (SMCC), will be used to buy rare and valuable malts for the Chinese market.
The initiative was announced by First Minister Nicola Sturgeon as she arrived in China for a trade mission.
Ms Sturgeon also revealed new figures showing food and drink exports to China totalled £85m last year.
During the mission, the first minister will open the SMCC's new Whisky Experience Centre in Beijing, which will showcase the malt whisky production process with photographs and items from distilleries.
It will also display single malts that are available in China.
The SMCC, which was set up in 2005, imported 60,000 bottles of Scotch last year.
'Rarest drams'
The new £3m Whisky Investment Fund is expected to help lift that figure by another 20% over the next year.
Ms Sturgeon said: "The Single Malt Club China has worked hard to promote Scotch whisky for a decade and now has nearly 5,000 members throughout China.
"It also works with 31 of our distilleries, so the support for our industry is clear, and this fund will allow Chinese whisky connoisseurs to invest in some of Scotland's finest and rarest drams."
The move comes as Scotch whisky firms look to boost sales in China, which have been hit by an ongoing austerity campaign by the Chinese authorities.
According to figures released recently by the Scotch Whisky Association, direct exports to the country fell by 23% to £39m last year, making it Scotch's 26th largest market by value.
However, overall food and drink exports to China rose by 12% to £85m last year, according to new data announced by Ms Sturgeon.
Fish and seafood made up the bulk of exports, with £43m worth of products, followed by whisky (£39m), meat (£1.4m) and cereals (£1.1m).
During her trade visit, Ms Sturgeon will promote Scottish business, including hosting an "innovation showcase" for Scottish companies to meet with Chinese investors.
The first minister will also undertake a series of cultural and educational engagements.