Prestwick Airport chief executive Iain Cochrane to leave job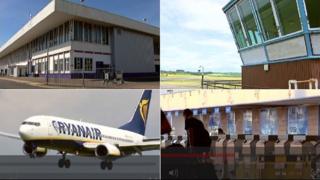 The chief executive of Prestwick Airport is to leave his job as part of a management shake-up at the Scottish government owned site.
Iain Cochrane will step down on 30 September after 20 years of working at the airport, five of them in his current role.
Chief commercial officer Graeme Sweenie will also leave in two weeks' time.
Management changes are being made to implement a new "business model" at the loss-making airport.
Prestwick Airport was bought by the Scottish government for £1 in November 2013 amid fears it would close.
A year later former Air New Zealand boss Andrew Miller was made chairman of the airport's holding company.
Mr Miller paid tribute to the work of his departing colleagues but said a new leadership team was required to change the business.
He said: "The future of Glasgow Prestwick is likely to be quite different from the past.
"The business model needs to be both re-designed and delivered rapidly so that the airport can look forward to a profitable, sustainable future. The board believes that this fundamental re-positioning requires new vision, leadership and expertise in the executive team."
He said the search for a new chief executive and chief commercial officer was already under way.
Iain Cochrane said: "I've had twenty great years at Prestwick, five as chief executive. It has been my huge privilege to lead this fantastic airport with its exceptional and committed staff but it's time for a change. I now look forward to a fresh challenge and exploring new opportunities."
Graeme Sweenie said: "I've thoroughly enjoyed my time at Prestwick Airport and after ten years I'm looking forward to a new challenge."