Drug discovery firm IOmet Pharma sold in $400m deal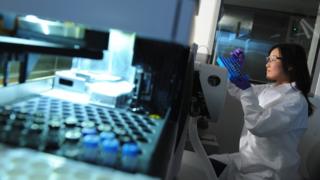 Scottish drug discovery company IOmet Pharma has been bought by US pharmaceutical group MSD in a deal worth up to $400m (£280m).
Edinburgh-based IOmet specialises in the discovery and development of small molecules for the treatment of cancer.
The company's focus is in cancer immunotherapy and cancer metabolism.
Under the terms of the sale, IOmet will become a wholly-owned subsidiary of MSD, which is known as Merck in North America.
The total amount MSD will pay for IOmet is subject to the Scottish-based firm achieving agreed "milestones".
Eric Rubin, from MSD Research Laboratories, said: "By harnessing the power of the immune system, we are already witnessing great advancements in the treatment of cancer.
"The acquisition of IOmet is a further example of MSD's commitment to fully realising the potential of this rapidly evolving field through our existing innovative portfolio as well as the acquisition of promising immunotherapeutic candidates."
Deputy First Minister John Swinney said: "The Scottish government strongly supports the life sciences sector in Scotland and this news is testament to the intellectual vibrancy and strong commercial attractiveness of Scotland's life science businesses."