Sausage-skin maker Devro reports growth but cuts jobs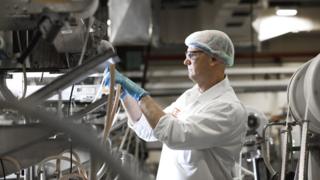 Devro, one of the world's largest makers of sausage skins, has reported growth but demand is down in Russia and falling in China.
The North Lanarkshire-based firm, which specialises in collagen casings, said it has had to cut 350 jobs from its worldwide workforce of 2,200.
These were mainly at its Scottish operations and in the US and Australia.
Devro is soon to start up production in new plants being completed in China and the United States.
The firm has five manufacturing sites, two of which are based Moodiesburn and Bellshill in North Lanarkshire. The others are in Australia, the Czech Republic and the USA.
Devro reported 2015 revenue down slightly from £232m to £230m. Pre-tax profits rose from £26m to £29m.
World demand
It said markets for its collagen sausage skins last year were strong in Japan, North America, where consumption of meat-based snacks are on the rise, and in south-east Asia. Worldwide growth, excluding China, was up 3%.
The Russian market suffered in the earlier part of last year from political, economic and currency disruption.
The Chinese market shrunk, as economic growth slowed, but Devro noted improvements in the premium market, where it wants its new Chinese output to be positioned.
Demand for sausage skins is one indicator of world demand for protein and meat products.
It has been helped by rising prosperity in emerging markets, as diets shift to more meat products.
In recent years there has been some trading down from more expensive cuts of meat in developed economies.
Devro chief executive Peter Page said: "Our transformation will complete in 2016, after which Devro will be well positioned to supply all our markets with competitive products from efficient manufacturing operations.
"The benefits from this transformation will begin to flow through to profits in 2016 and the long-term growth prospects are strong."