Revenue and profits leap for Smart Metering Systems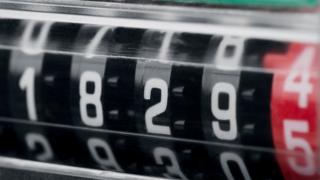 Energy meter technology firm Smart Metering Systems (SMS) has reported a sharp rise in revenue and profits.
The Glasgow-based firm said revenue increased by 27% last year to £53.9m, while pre-tax profit was up nearly 60% at £17.5m.
Turnover was boosted by significant increases in its gas and electricity meter portfolios.
In a separate announcement, SMS said it had bought three companies working in the sector for nearly £6.9m.
SMS said the acquisitions were in line with its strategy to grow its meter asset portfolio, particularly in the new domestic smart meter market.
SMS connects, owns, operates and maintains metering systems and databases on behalf of major energy companies.
During 2015, its gas and electricity meter portfolios increased by 19% and 142% respectively.
Its gas meter count rose from 607,000 to 723,000 over the year, while the number of electricity meters increased from 12,000 to 29,000.
'Substantial progress'
The company said its results showed "substantial progress" across all segments of the business.
Chief executive Alan Foy said: "As we celebrate 20 years in operation, SMS has again recorded double-digit growth.
"We remain focused on the continued expansion of our core business while also pursuing the significant opportunities available to SMS in the domestic smart meter market.
"2016 has started well with the signing of five new domestic smart meter agreements along with three important strategic acquisitions to control our installation capacity in our markets.
"We remain confident in our outlook for the business and market development in 2016."
Acquisitions
The three companies SMS has bought include CH4 Gas Utility and Maintenance Services, a specialist in energy metering installations for the domestic and industrial and commercial sectors.
SMS will pay an initial £2m for CH4 through the issue of shares, with a further £0.9m if performance targets are met over three years.
SMS has also bought installation service provider Trojan Utilities in a deal worth up to £1m.
Trojan has more than 80 fully trained engineers and has already installed more than 270,000 gas and electric domestic smart meters.
The third company, Cambridge-based Qton Solutions, specialises in work and field management IT systems for gas and electricity metering installations.
That deal is worth up to £2.9m.