Suppliers to the oil and gas industry predict five-year growth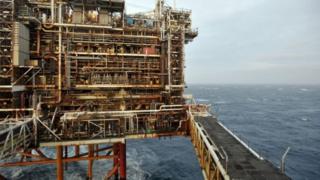 Scottish companies that supply to oil and gas producers expect to see continued growth over the next five years, but at a much slower rate.
The annual Scottish Enterprise survey of the sector found growth expectations over five years of only 4% in the UK sector.
That figure is down from 25% in the survey published last year.
International exports are forecast to grow at 12%, down from 31% in the previous survey.
The downturn in oil prices has meant 31% of the firms surveyed are looking to increase their international focus, yet nearly as many plan to reduce it.
More companies are not at all optimistic about the next two years than are very optimistic.
Foreign subsidiaries
But looking out five years, only 3% are not at all optimistic, and 54% are very optimistic.
The research, carried out with Aberdeen Chamber of Commerce, reflected sales figures before the slump in oil price began to bite hard.
It found that Scots-based sales in the oil and gas sector totalled £15.2bn in 2014, the same as 2013.
That comprised £10.7bn in domestic sales and £4.5bn in exports. The export figure nearly doubled between 2010 and 2014.
The total of UK supply chain sales in the oil and gas sector was £33.8bn.
An additional element counted in this survey was Scottish firms with foreign subsidiaries, such as Wood Group, based in Aberdeen.
These had supply chain sales taking the total activity from Scottish companies to £22.9bn - up 3% on the 2013 figure. Of that total, 53% was in overseas sales.
The reach of exports was across 115 countries. But reflecting the change in the market, several reported pulling out of certain markets, led by Brazil and Russia.
Malaysia is showing more potential as an export market, along with the USA, United Arab Emirates and Norway.
'Mixed picture'
The US remains the biggest export market, worth nearly £2bn, while there were 2014 sales of more than £1bn to operations in both Angola and Nigeria.
The supply chain included in the survey is wide-ranging across engineers and specialist contractors, as well as equipment, transport, training and catering.
Commenting on the results, Lena Wilson, chief executive of Scottish Enterprise, said: "They clearly reflect a very mixed picture for the oil and gas industry. On one hand they demonstrate the global reputation of the sector and the strong demand for its skills, experience and expertise.
"But on the other, the severe impact of the low oil price necessitates further work to transform, to become even more competitive in the global marketplace."
James Bream, of Aberdeen Grampian Chamber of Commerce research, said: "It is a challenging business environment but it's a sign of strong resilience that businesses can look ahead and still see opportunities that exist around the globe.