Aberdeen Airport traffic continues to fall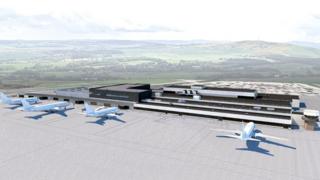 Passenger numbers have continued to fall at Aberdeen International Airport.
The airport said nearly 245,000 passengers travelled through its doors in March - a fall of 14.1% compared with the same period last year.
Domestic traffic was down 19.1%, with international traffic showing a slight dip of 1.7%.
Its latest traffic figures are in sharp contrast to the performance of Glasgow and Edinburgh airports, both of which reported their busiest March on record.
The March figures covered the Easter period, unlike last year when the festive period fell in April.
Aberdeen's passenger numbers have been falling steadily since 2014, when 3.8 million people travelled through its doors over the year. In 2015, 3.5 million passengers used the airport.
It has been hit hard by the downturn in the oil and gas industry, following a sustained fall in the oil price.
'Challenging start'
Reacting to the March figures, Aberdeen Airport managing director Carol Benzie said: "Given the performance of the wider economy we fully expected a challenging start to the year, however, we have continued to work hard on providing passengers with more choice by securing new routes and I remain encouraged by our international traffic.
"There is a real opportunity for leisure capacity in Aberdeen and airlines such as Icelandair and Wizz Air have already demonstrated their confidence in the market with launch of important new routes.
"Both Thomson and Flybe will follow suit in the coming months during which time we will make real progress on our £20m investment programme.
Construction of a two-storey extension to the south of the existing terminal building is due to start in May.
In a separate development, Aberdeen Airport confirmed that it was doubling its fees for the use of its drop-off zone.
A spokesman said: "We are increasing the length of stay in the drop-off zone from 10 to 15 minutes and the fee will increase from £1 to £2.
"Customers can now park in the short-stay car park for 20 minutes at the same price and a free drop-off area is still available in the long-stay car park.
"Importantly, there will be no change for blue badge holders.
"Those with a valid badge are still entitled to a free 30-minute period in the clearly marked blue badge spaces within the short-stay car park, which are the closest spaces to the terminal."
Meanwhile, Edinburgh Airport said 927,200 people passed through its terminal last month, with international passenger numbers climbing year-on-year by 37.6% to 493,200.
Glasgow also reported a record March after more than 660,000 passengers travelled through its doors - an increase of 9% on the same period last year.
The airport said international traffic grew by 11% due to strong demand on European routes, while domestic traffic increased by 7.2%.