Anger over airport expansion decision delay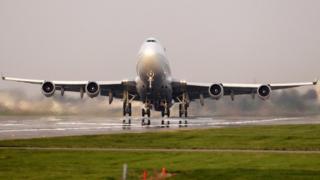 The Scottish Chambers of Commerce (SCC) has expressed anger after the UK government again postponed a decision on expanding airport capacity around London.
UK Transport Secretary Patrick McLoughlin said a decision was to be put back until "at least October".
The move follows the UK's Brexit vote, which triggered a leadership contest in the Conservative government.
SCC described the postponement as "economic illiteracy".
Heathrow and Gatwick airports have been vying with each other over building an extra runway.
Last July, the Airport Commission recommended Heathrow be expanded with a third runway at an estimated cost of £18.6bn.
The recommendation was welcomed at the time by Scotland's chambers of commerce, which said it would be good for Scottish business.
But in December, the government delayed its decision, saying further work on noise, pollution and compensation needed to be carried out.
'Economic illiteracy'
SCC chief executive Liz Cameron said: "This announcement of a further delay in making a decision on airport expansion in the UK could not have come at a worse moment.
"At a time when business is expecting our government to show leadership and clear direction, it is economic illiteracy to create a further lengthy delay to one of Britain's most important transport infrastructure priorities.
"Wherever airport expansion ultimately takes place, that decision should be made now.
"We have major private sector business investment in our economy ready to go but the opportunity is being lost due to the government's delay.
"The UK and Scotland are losing out on key international air routes to markets across the globe.
"Capacity constraints have also adversely affected Scotland's connectivity to onward long haul air services, hampering our business competitiveness."
She added: "Failing to invest in the UK's international connectivity at this time is simply inexcusable and we call for the UK government to reconsider its position urgently."
The SNP also criticised the UK government's decision.
Westminster transport spokesman Drew Hendry said the move was a ''slap in the face'' for Scottish businesses and travellers.