German investor SVM in John Menzies break-up call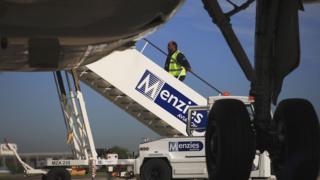 A German investor has urged logistics specialist John Menzies to separate its aviation and distribution businesses after buying a 7% stake in the company.
Shareholder Value Management (SVM) also suggested that Menzies nominate a new chairman, following the departure in May of Iain Napier.
Mr Napier was the third high-ranking figure this year to leave the Edinburgh-based company.
In March, Menzies reported annual pre-tax profit had fallen by about 30%.
It blamed, in part, contractual problems at London Gatwick Airport last year, which cost the company £6m in lost earnings.
The company's interim chairman is Dermot Jenkinson, who was non-executive group director.
In a stock exchange announcement, SVM confirmed that its sub-fund Frankfurter Aktienfonds fur Stiftungen had purchased 4.31 million shares in John Menzies, equivalent to about 7% of the shares outstanding.
It added: "As a direct result of the recent developments at the corporate governance level, SVM believes that the company - after two challenging years - is finally on the right track to take the appropriate actions to realise value for its shareholders under new leadership.
"Accordingly, SVM encourages the timely nomination of a new independent chairman and strongly urges the company to separate the aviation business from the distribution business, a move that would be immediately and significantly value accretive, and in the interest of all shareholders."
A spokesman for John Menzies plc said: "We encourage an open and proactive dialogue with all our shareholders.
"In reference to today's public statement, and as stated on 20 May 2016, the board is progressing its evaluation of the optimal structure for the group against the potential opportunities for expansion and acquisition in both divisions."