Scottish Salmon Company sees profits up on lower yield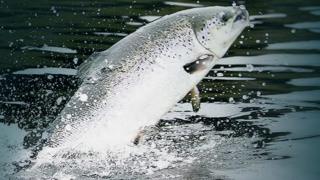 The Scottish Salmon Company posted a rise in operating profit in the second quarter, despite seeing harvested tonnage fall as a result of "industry-wide biological issues".
The firm harvested 6,382 tonnes of salmon - down from just under 8,200 tonnes for the same period last year.
It said harvests at a few of its southern sites were at a lower mean weight than expected.
It cited sea lice and parasites as one reason for the lower yield.
The Edinburgh-based company also blamed "elevated levels" of pancreas disease at some sites, which had increased mortalities and caused fish to be smaller.
The firm said measures were in place "to address these challenges".
Although revenues for the quarter were £2.7m lower than a year ago, at £28.5m, operating profit rose by £600,000 to £4.9m.
'Some challenges'
The Scottish Salmon Company said market conditions continued to thrive, with industry prices reaching "unprecedented levels".
Its earnings per kilo before "fair value adjustment" rose year-on-year from 29p to 47p.
The firm also reported that work was progressing well on a new site at Maragay Mor, Benbecula.
It is due to be stocked in the current quarter, and produce an additional 2,000 tonnes of harvested volume.
The company employs 450 people, about half of whom are based in the Hebrides.
Managing director Craig Anderson said: "To date, 2016 has presented some challenges and despite this our earnings have remained steady.
"We are making good headway in developing our new site in the Hebrides - increasing harvest volumes to allow balanced year-round production is at the heart of our growth strategy."
He added: "Biological challenges remain an industry-wide issue for salmon farmers and we have continued to invest in collaborative solutions. As part of this we have a long term project in place for including cleaner fish as part of our farming programme."