Hundreds approved for new oil and gas transition training scheme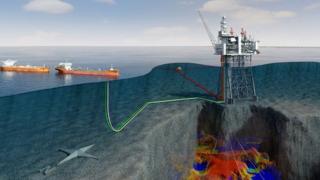 Six hundred people have been approved for a scheme to help people who face losing their jobs in oil and gas to gain new skills and find new work.
The Transition Training Fund was launched by the Scottish government in February.
The £12m fund offers grants for individuals to acquire specialised skills or further training.
First Minister Nicola Sturgeon said 600 people had been approved as she opened a new Statoil headquarters in Aberdeen.
'Vote of confidence'
Ms Sturgeon said the oil and gas industry still had a strong future in Scotland despite its current challenges.
Statoil is developing the Mariner field, with production expected to start in 2018.
She said: "The expertise that Scottish oil and gas firms have built up over many decades has positioned our energy sector as a world leader and while we realise that the industry and workforce is going through a difficult time, this investment and expansion from Statoil is a vote of confidence in the North Sea's future."
And the first minister confirmed: "Only halfway through the first year of our three-year Transition Training Fund, launched in February, already 600 people have had their applications for support approved."