Whisky boss quits for Boris Johnson role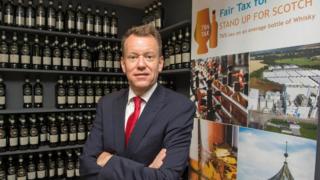 One of the most prominent figures in Scotch whisky has announced he is leaving the industry to take up a senior foreign affairs role.
Scotch Whisky Association (SWA) chief executive David Frost is to become special adviser to UK Foreign Secretary Boris Johnson.
Mr Frost has also resigned as a member of the Scottish government's advisory council on Europe.
The group of experts was assembled by Nicola Sturgeon after the Brexit vote.
Mr Frost will start his new role on 4 November.
He had been a career diplomat before taking over at the helm of the SWA in January 2014, having held various senior roles in the Foreign Office, including as British Ambassador to Denmark.
SWA deputy chief executive Julie Hesketh-Laird will take over Mr Frost's role until a new chief executive is appointed.
Ms Hesketh-Laird joined the association in 2005 as director of operational and technical affairs, and became deputy chief executive in December 2014.
In August the SWA warned that the Brexit vote was likely to result in a big rise in tariffs imposed on exports to key growth markets, and called for a trade policy that was "as open and free trading as possible".
At the time, Mr Frost urged the UK government "to bring clarity to the transition to Brexit as soon as possible".
In announcing his departure on Tuesday, Mr Frost said: "I have thoroughly enjoyed my time as chief executive and I want to thank SWA members and my team for their support.
"Scotch whisky is a wonderful industry to represent, vital to Scotland and to Britain, operating on a global scale, and held in affection by so many around the world.
"I leave the association and the industry well-placed to continue to succeed in a competitive market-place during a time of change, including Brexit."
SWA chairman Pierre Pringuet, who is vice-president of Pernod Ricard, said: "David has successfully modernised the association during a challenging time for the industry both economically and politically.
"We have very much valued his leadership and I am confident he leaves the SWA in a good position to face the future."