Oil firm Parkmead raises stake in Sanda fields
Independent oil exploration firm Parkmead has announced it is taking a bigger stake in a significant prospect west of Shetland.
The Sanda fields lie close to other large finds, where production or development is under way.
Aberdeen-based Parkmead has raised its stake in Sanda from 56% to 100%.
Previously, the minority stake was held by Atlantic Petroleum, based in the Faroes, but which has had to sell assets due to financial pressures.
Parkmead estimates that 280 million barrels of oil could be found in the north and south Sanda fields, but it is still at the stage of seismic analysis.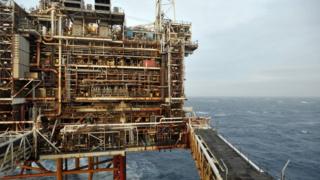 Nearby developments include Schiehallion, Laggan-Tormore and the more recent discovery by Hurricane Energy at the Lancaster field.
Parkmead last month announced results for the end of 2016, which saw the company back in profit. The figures reflected income from its Dutch gas production and growing plans for the fields around the Greater Perth hub in the North Sea.
Last summer, the company expanded its stake in central North Sea prospects, which it had also shared with Atlantic Petroleum.
Executive chairman Tom Cross said: "Parkmead is well positioned to take advantage of the ongoing lower oil price and the opportunities that are arising from this."
Parkmead's share price was up 3%.
---
Other news from the offshore oil and gas industry reflects the mixed fortunes of those with too much debt, and those able to buy assets and operate more cheaply.
Seadrill
Seadrill, which leases drilling rigs and similar equipment around the world, has announced it has been given additional time by its creditors to secure a financial restructure.
The heavily-indebted firm, based in London and Bermuda and with a significant presence in the North Sea, has warned that shareholders are not likely to see much value left, after the financing deals have been done.
It is preparing for the possibility that it has to file a law suit to secure bankruptcy protection.
In a statement, Seadrill management said: "We currently believe that a comprehensive restructuring plan will require a substantial impairment or conversion of our bonds, as well as impairment, losses or substantial dilution for other stakeholders.
"As a result, the company currently expects that shareholders are likely to receive minimal recovery for their existing shares."
Seadrill's results for the fourth quarter of 2016 showed revenue down 47%, earnings down 31%, and debt standing at $8.5 billion. It said trading had been "extremely challenging".
The company said there were signs of activity picking up in the North Sea, but rivals had been offering contracts at below cost price in order to keep drilling rigs operational. It has cut staffing from nearly 9,000 people to 5,200.
---
Statoil
Statoil and Jersey Oil and Gas, which are partners in the Verbier field in the central North Sea, have announced plans to drill there this summer.
As operator, Statoil has contracted the Transocean Spitsbergen semi-submersible rig to carry out the drilling.
---
Enermech
Aberdeen-based firm Enermech has announced £40m of contracts for its oilfield mechanical services in the Caspian basin, including provision of cranes for BP in Azerbaijan.
---
Bowleven
At Bowleven, the Edinburgh explorer with a focus on African prospects, a boardroom coup is nearing its end.
Several directors were ousted at a shareholder meeting last month, and the former chairman resigned last week.
The new management team announced on Tuesday it is no longer carrying out a strategic review of operations. That had included the option of selling the company or its assets.
The coup was initiated by activist investor Crown Ocean Capital. Those now in control of Bowleven had been critical of the cost of drilling in Cameroon, and delays in the programme, as well as the level of executive pay.
They also claimed that Bowleven executives were too close to Cairn Energy, another Edinburgh-based company active exploring for oil in west Africa.
It has been decided to stop further exploration activities, and the Takeover Panel has agreed that the company is no longer in play as an acquirer or target.
The statement issued on Tuesday stated: "The board remains focussed on maximising value for its shareholders and, having undertaken a review of all strategic options available to the company, is committed to the rationalisation of its cost base, and the preservation and enhancement of its existing assets.
"In addition, the board does not expect to pursue any new exploration activity at the current time."
Bowleven's share prices on the Alternative Investments Market fell 3% on news that it is no longer considering a sale. However, it has risen from 25p to 35p in the past two months.