PMI finds Scottish business activity stagnated in March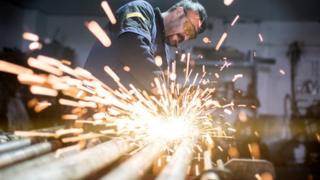 Scotland's private sector economy stagnated last month as a downturn in services activity offset growth in manufacturing production, according to a survey of purchasing managers.
The Bank of Scotland's latest PMI found there was "muted" demand for goods and services in March.
Business activity in the services sector dipped for the first time in four months.
However, factory production continued to rise "at a pronounced rate".
The report also noted a "fractional" rise in employment.
The PMI - which measures changes in combined manufacturing and services output - slipped to 50.1 last month, down from a 19-month high of 51.7 in February.
Any figure above 50 suggests expansion.
---
Analysis by Douglas Fraser, BBC Scotland business/economy editor
Last week's output figures from the Scottish government opened up the prospect of a winter recession, though we won't find out until July if that's what Scotland has been through.
The PMI numbers help tell the story closer to real time, at least for the private sector.
They've been persistently very sluggish for more than two years - the trend line just above the tipping point at which output contracts. And they've been persistently behind more positive UK PMI figures.
The steadiness of the service sector is shown, in the March survey, to be weakening. Manufacturing was last year enjoying the benefit of the weaker pound, both to export and to substitute imports.
But that production boost seems to have been weakening. Exports and new orders are not the manufacturing figures that are holding up the broader economy.
UK indicators at the end of last week led to a weakening of forecasts for economic growth, taking the first quarter of the year to an expected 0.5%.
That's a slowdown from the 0.7% for the end of last year - the same quarter that Scotland's economy contracted 0.2%.
So if the UK economy is slowing down, and there's not much sign of an upturn from Scotland's doldrums, that recession - two quarters of contracting GDP - is looking more likely.
---
Firms, particularly in manufacturing, reported that unfavourable exchange rates had led to an increase in input costs. Higher wages were also reported to have pushed up operating expenses.
The survey found that companies continued to respond to higher operating costs by increasing their own charges.
Fraser Sime, regional director for Bank of Scotland Commercial Banking, said: "The economic upturn of Scotland's private sector economy lost momentum at the end of the first quarter.
"A muted demand for goods and services resulted in only a marginal increase in new business inflows, which, in turn, caused activity levels to broadly stagnate.
"The overall message is more balanced, however, as businesses created jobs over the month and sentiment remained broadly positive.
"These developments suggest that the Scottish economy will likely return to growth as we head into the second quarter."