New car registrations fall by 17.5% in Scotland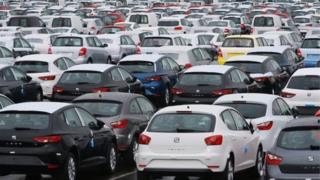 Scotland saw a sharp fall in new car registrations last month but still outperformed the rest of the UK, according to industry figures.
The Society of Motor Manufacturers and Traders said 12,059 cars were sold in Scotland - 17.5% down on a year ago.
That compared with a fall of nearly 20% for the UK.
Industry leaders blamed the drop in part on consumers bringing forward purchases to avoid a rise in Vehicle Excise Duty (VED).
New VED rates came into force on 1 April, making all new cars - apart for those with zero emissions - subject to an annual flat rate charge.
Despite last month's fall, Scottish sales were up about 1% overall for the first four months of the year.
Dumfries and Galloway was the worst performing area of Scotland in April, with registrations down by more than 42% over the year.
---
Top sellers in Scotland in April
Vauxhall Corsa
Vauxhall Astra
Vauxhall Mokka X
Ford Fiesta
Renault Clio
Source: Society of Motor Manufacturers and Traders
---
Scottish Motor Trade Association (SMTA) chief executive Sandy Burgess said: "With the strong March and the added incentive of beating the new rules on Vehicle Excise Duty coming into play on 1 April there was always going to be something of an 'emergency stop' in the results.
"The tail-off was evident across our dealers showrooms and even online inquiry levels have softened.
"There may also have been the 'double whammy' effect as a result of the media speculation around the introduction of a new scrappage scheme to take the older less efficient diesel engine cars off the road.
"Ironically of course an introduction of such a scheme may well serve to bring a degree of ignition to the new car market."
He added: "Given the strength of the new car market over the first four months of the year, with numbers still up on 2016 by 1%, the retailers have fantastic levels of outstanding pre-owned vehicles and the message we are hearing is still a very encouraging 'business as usual' for anyone looking to change their current vehicle."