Shopping app Mallzee hits one million downloads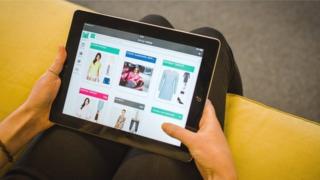 Fashion shopping app Mallzee has reported its one millionth download since its launch four years ago.
The app allows shoppers to find, compare and buy clothes, shoes and accessories from more than 150 high street retailers.
Mallzee was founded in Edinburgh in 2013 by entrepreneur Cally Russell.
Mr Russell pressed ahead with developing the app after turning down an offer of investment on the BBC's Dragons' Den programme.
Mallzee has so far raised £3.1m from a number of investors, including the Royal Mail Group and tech entrepreneurs such as Skyscanner founder Gareth Williams.
Mr Russell said: "One million people downloading Mallzee - it's a huge number.
"It's 100 times the population of my hometown of Dunoon, it's twice the population of sunny Edinburgh, it's 20% of the population of Scotland and it's a 60th of the population of the UK."