Scottish retailers ''worried' by rise in vacant shop rate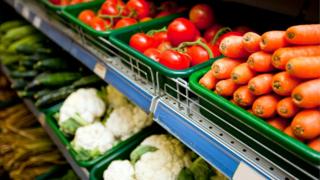 A surge in food sales helped to offset a poorer performance from other parts of Scotland's retail sector last month, a report has found.
Grocery sales in May grew year-on-year by 4.5% - the fastest food sales increase since July 2013.
That contrasted with a 3.8% drop in non-food sales.
As a result, total sales in Scotland were down by 0.2% on a year ago, according to the latest Scottish Retail Consortium-KPMG sales monitor.
Scottish Retail Consortium director David Lonsdale said: "Grocery sales did well again, with the category recording its fastest growth in almost four years.
"However, that growth is partly being driven by rising food price inflation, so grocers will see only modest benefit.
"Non-food retail sales remained in the doldrums."
Mr Lonsdale said there had been more focus on value and affordability, resulting in a dip in sales of larger or bespoke household items.
However, there were stronger performances for mobile phones and summer-related women's footwear and sandals.
Craig Cavin, head of retail in Scotland for KPMG, said: "Non-food retailers, particularly fashion outlets, will be glued to the weather forecast as we get into the warmer months and shoppers turn their attention to shorts and sandals.
"Last year's Euro Championships boosted summer TV sales, but the lack of a big-ticket football event means non-food retailers will look to annual attractions like Wimbledon to bolster sales."