Deli Food sandwiches recalled over wrong use-by date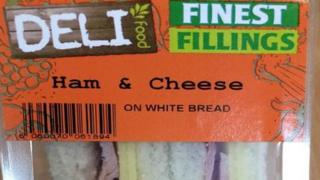 Food Standards Scotland has ordered the recall of six varieties of pre-packed sandwiches after they were labelled with the wrong use-by date.
The Deli Food snacks are marked with the date 23/07/17 rather than 23/06/17.
It is thought the error could pose a food risk to anyone who eats one of the sandwiches.
The varieties being recalled are Egg Mayo, Ham & Cheese, Ham & Cheese Savoury, Chicken Mayo, Cheese & Red Onion and Ham & Egg.
Food Standards Scotland said customers should return the sandwiches to the shop where they were bought to receive a full refund.