Pair buy remaining Peckham's deli branches in Glasgow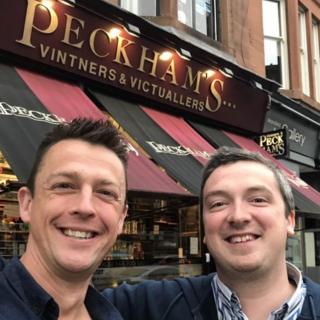 A tech entrepreneur has teamed up with a food and drink sector specialist to buy Scottish delicatessen brand Peckham's.
Andrew Duncan and Lee Fish have bought the remaining two Peckham's branches in Byres Road and Hyndland Road in Glasgow for an undisclosed sum.
The pair said they would restore the brand "to its former glories".
At one time, the Peckham's chain had 11 branches before slipping into administration several years ago.
Mr Duncan, who is managing director of mobile and web tech business SwarmOnline, linked up with Mr Fish - who formerly held the UK franchise for O'Briens sandwich cafes - after meeting at their local round table in Helensburgh.
'Ideal combination'
Mr Duncan said: "When I found out Peckham's was for sale, I felt that our combination of sector experience and tech expertise would be ideal to restore the company's reputation in a hugely competitive market.
"SwarmOnline will develop the tech side of the business producing apps that will make it much more efficient, allowing us to make better informed decisions about stock and sales and making the customer experience unlike any other deli or cafe.
"This sort of technology is normally only used by the major supermarkets and corporates - we aim to be the most high-tech deli in the country."
Mr Fish currently owns Kitchen, a small chain of independent cafes in the west of Scotland, as well as running two O'Briens shops in Edinburgh and Newcastle.
He said: "Peckham's has suffered from a lack of investment in recent years and we will address that immediately.
"We plan to completely reconfigure the Byres Road branch by the end of this year, followed by Hyndland Road, with spending on the project likely to hit six figures."
Mr Duncan and Mr Fish said they also planned for Peckham's to re-enter the Edinburgh market and said they were already looking for premises in the capital.