Statoil says Mariner project will support up to 1,500 jobs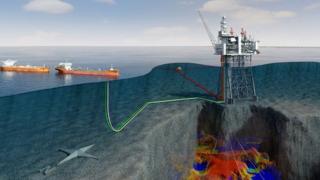 Up to 1,500 offshore jobs will be supported by the next phase of a major North Sea oil field development, oil giant Statoil has announced.
Up to 800 people will carry out hook-up and commissioning work before production starts at the Mariner field in the second half of 2018.
Once in production, the field will support 700 permanent jobs.
Statoil confirmed the number of posts as it prepared to install the topside of the Mariner platform.
Modules weighing a total of 38,000 tonnes are due to be lifted on to the base of the platform, which was installed in 2015.
Mariner, which lies about 93 miles (150km) east of Shetland, is one of the largest projects currently under development in the UK Continental Shelf (UKCS).
The heavy oil field has reserves estimated at more than 250 million barrels of oil, with an average plateau production of about 55,000 barrels per day.
Statoil Production UK managing director Hedda Felin said: "The Mariner development will create wider ripple effects in the supply chain for the next 30 years.
"We are privileged to be able to contribute towards job creation and the longevity of the UKCS.
"Mariner demonstrates that this industry has a positive and exciting future ahead."
Statoil has a 65.1% stake in Mariner. Its co-venturers are JX Nippon Exploration & Production (UK) Ltd (20%), Siccar Point Energy (8.9%) and Dyas Mariner Ltd (6%).
Meanwhile, Statoil is due to start a three-well exploration drilling campaign on the UKCS.
The company said one of the wells - Mariner Segment 9 - could provide additional resources and increase the extent of the Mariner Field.