Neighbour attack inspired safety alarm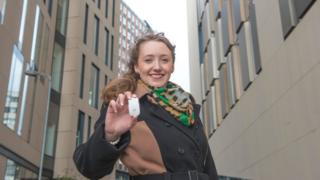 A young Glasgow-based entrepreneur has told how she launched a range of personal safety alarms after one of her neighbours was attacked.
Rebecca Pick, 23, said she was inspired to create the devices after hearing how no one came to help the victim.
She secured £1m of investment for her products, which include a wearable monitored attack alarm.
Ms Pick was recently named by Scottish Development International as one of Scottish tech's most influential women.
She founded her company Pick Protection in 2014 while still a student at the University of Strathclyde.
The company has the backing of Unipart Security, whose alarm receiving centre will monitor Pick Protection's devices.
Once an emergency has been verified, police will be alerted to a user's location.
Investors in her business have included Equity Gap, the University of Strathclyde, Gabriel Investment Syndicate, Scottish Investment Bank and Unipart Group.
Ms Pick said: "The inspiration behind Pick Protection may not have been work-related - my neighbour at university was attacked and nobody came to help - but after a lot of market research, we have decided to focus the business on lone worker protection.
She added: "The number of lone workers in the UK is growing all the time, yet only around 6% of them currently have protection through monitored safety alarms.
"However, more and more employers are waking up to the fact that they have a duty of care to ensure the safety of their lone workers."