Douglas Laing & Co unveils plans for distillery in Govan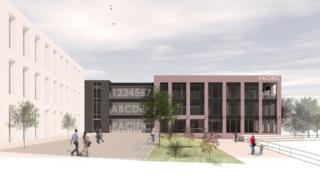 A whisky firm has unveiled plans for a new £10.7m distillery and bottling complex on the banks of the River Clyde.
Douglas Laing & Co said the development at Pacific Quay in Govan would include a visitor centre, bar and bistro.
The firm hopes the distillery will be up and running by the end of next year, with the first single malt product expected to launch in 2021.
Up to 38 new jobs will be created by the development, Laing said.
It added that planning talks with Glasgow City Council were at an "advanced" stage.
The development is being backed by an £855,000 Scottish government grant through the Food Processing Marketing and Co-operation (FPMC) scheme.
Water for the distillery will be piped from Loch Katrine, while barley will be brought in from Scottish farms to create whiskies such as Old Particular, Timorous Beastie and The King of Scots.
The move comes as as another whisky firm prepares to open a distillery a short distance away on the north side of the River Clyde.
Morrison Glasgow Distillers said construction of the Clydeside Distillery and visitor centre was "moving at pace".
It is due to open in the autumn, although an exact date is still to be confirmed.
The Laing project will see the blender and bottler move into distilling for the first time.
Laing's director of whisky, Cara Laing, whose grandfather Fred Douglas Laing founded the firm in 1948, said: "Until now we have depended on third party companies for our production requirements.
"These working associations have been and still are invaluable, but now we feel it's time to be more in control of our own destiny and to build on our core and current business.
"Instead of being perceived as an independent bottler, we will become a distiller, owning the production process from start to finish - from barley to the bottle - with an initial capability of producing considerably more than 100,000 litres of alcohol per annum."
She added: "It will bring whisky distilling back to the south side of the city and will create welcome jobs, generate significant additional high-value exports and hopefully become an additional tourist attraction to the city."
Laing said the new distillery would help boost the firm's exports. It intends to expand in China and grow in existing markets including the USA, Germany, France, Japan, Taiwan and the UK domestic market.
Announcing the FPMC funding, Environment Secretary Roseanna Cunningham said: "I would like to congratulate Douglas Laing & Co Ltd on securing this funding, which will pave the way to bring quality whisky production to the heart of Glasgow."